Custom shortcuts with jumpapp in Ubuntu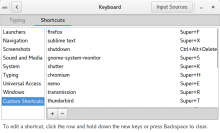 Custom shortcuts in Ubuntu is a great way to speed up starting up programs, or focusing on them.
Jumpapp is a great tool to use together with custom shortcuts:

"The idea is simple — bind a key for any given application that will:
- launch the application, if it's not already running, or
- focus the application's window, if it is running
Pressing the key again will cycle to the application's next window, if there's more than one."

From: https://github.com/mkropat/jumpapp
Create Custom shortcuts here: Keyboard > Shortcuts > Custom Shortcuts, these are my custom shortcuts: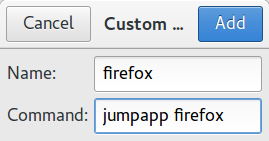 firefox
jumpapp firefox
Super+F
sublime text
jumpapp subl
Super+X
shutdown
gnome-session-quit --power-off
Ctrl+Alt+Delete
gnome-system-monitor
jumpapp gnome-system-monitor
Super+S
shutter
jumpapp shutter
Super+K
chromium
jumpapp chromium-browser
Super+H
nemo
jumpapp -f nemo /arkiv
Super+E
transmission
jumpapp -f transmission-gtk
Super+R
thunderbird
jumpapp thunderbird
Super+T
terminal
jumpapp gnome-terminal --window --maximize
onehalf
gimp
jumpapp gimp
Super+G
calculator
jumpapp gnome-calculator
Super+C
audacious
jumpapp -f audacious
Super+A
filezilla
jumpapp filezilla
Super+I
epiphany
jumpapp -f epiphany-browser
Super+W
baobab
jumpapp baobab
Super+B
opera
jumpapp opera --start-maximized
Super+Å
vivaldi
jumpapp vivaldi
Super+V
Trashcan
nemo trash://
Super+Alt+T
... and then empty trash with Alt+T.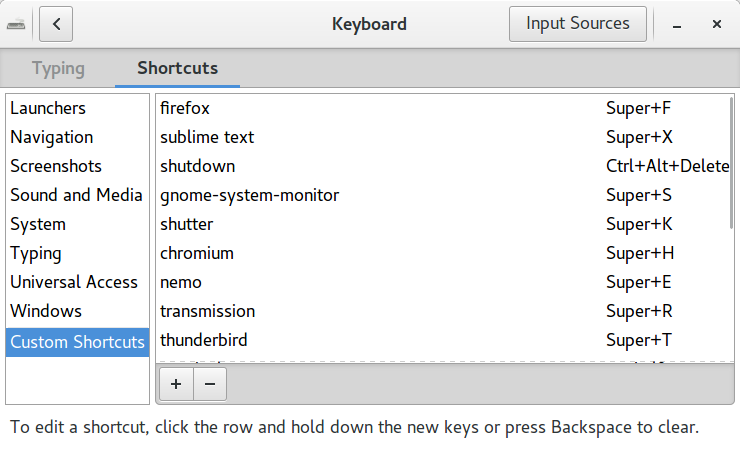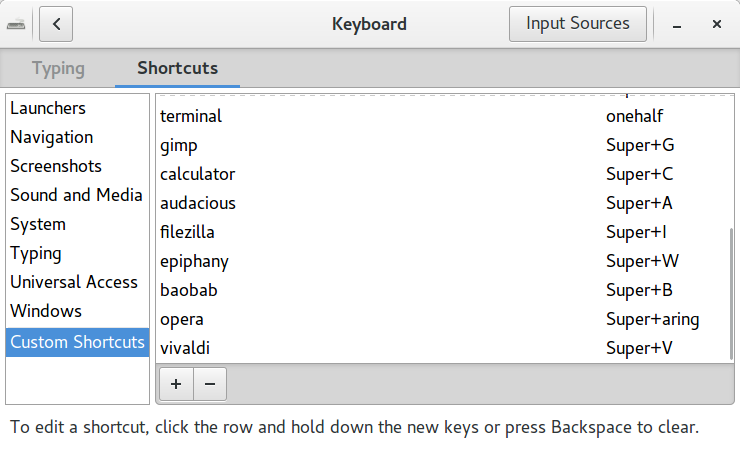 Export and import Custom Shortcuts
You can save/backup/export custom shortcuts/keybindings with dconf and sed.
Export
dconf dump / | sed -n '/\[org.gnome.settings-daemon.plugins.media-keys/,/^$/p' > custom-shortcuts.ini
Import
dconf load / < custom-shortcuts.ini
From: https://askubuntu.com/questions/597395/how-to-set-custom-keyboard-shortcuts-from-terminal/1200953#1200953